Introduction to the logistics - Concept
A pallet is employed, in its life time in different industrial domains and sectors. Three different possibilities of employment occur in this process: The exchange of pallets is the most popular and the method that is mostly applied in the handling of pallets. An alternative hereto is the resale or deposit / rental of the pallets. The experiences of many customers have however shown that the exchange of pallets in the course of time entails many problems – especially because of the increasing costs. More and more enterprises are looking for solutions and alternatives to the exchange of pallets.
Associations of forwarding agents for some years now are already propagating the resale as a more lucrative alternative to the exchange of pallets. The pallet is hereby considered as part of the packaging and it is sold-on together with the good. However, just the resale has not yet succeeded because up till date the incentives for the consignee, that can promote this changeover process to the new system has been lacking.
Falkenhahn AG has therefore developed the new logistics concept, "resale with added value", which is advantageous to all the participants: consignor, forwarding agent, consignee.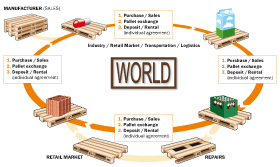 Directly calculate the saving potential of your enterprise with the pallet calculator.