Current Statement
of Falkenhahn AG on the legal situation of the WORLD-Pallet [15.09.2010]
Since the introduction of the WORLD-Pallet in the market in the spring of 2008 the legitimacy of the sales and marketing of World pallet has always been challenged. EPAL, to-date the single licensor of reusable pallets in the euro-pallet format, even attempts to deny the WORLD-pallet access into the market, and strives for several complaints against the WORLD-pallet and against Falkenhahn AG respectively.
Presently the Higher Regional Court in Jena has ruled off the perpetual litigations that have been going on for the past two years between EPAL and Falkenhahn AG, and has fully and comprehensively and legally accredited the trademark WORLD as a trademarked name and in respect to legal competition laws. Any appeal against this judgment is not admissible.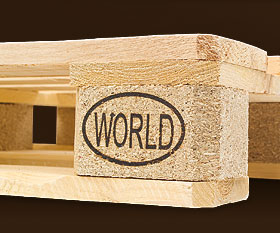 The result of this judgment of July 21st, 2010 (OLG Jena Az. 2 U 279/09) as well as the judgments of the antedated court proceedings can be finally summarized as follows:
EPAL's claim in its entirety has been dismissed – the requested injunctive relief of the complainant has not got any legal grounds.
The trademark WORLD is a legally binding registered trademark.
Falkenhahn AG is permitted to brand its reusable pallets in the euro-pallet format with the trademark WORLD without restrictions.
There is no danger or likelihood of confusion between the trademarks EPAL / EUR and WORLD
Furthermore, the court ascertained that
Both pallets (EPAL and WORLD) are absolutely identical with respect to their technical characteristics as well as with respect to their requirements
Both products are flat wooden pallets and that both conform to a standardized standard that is indisputable
(DIN EN 13698-1)
Thus both wooden pallets are to be seen as reusable, exchangeable and returnable pallets in euro-pallet format.
With this conclusive declarative legal statement there is thus an absolute legal security in the utilization of WORLD-pallet: The WORLD – pallet is a quality pallet that is an enrichment for the euro-pallet market, a low priced alternative pallet and at the same time meets all the requirements – such as its utilization in a high rack warehouse.